Bak Shaolin Eagle Claw Dominates at Local Aberdeen Kenpo Benefit,
In Kurt Cobain's Home Town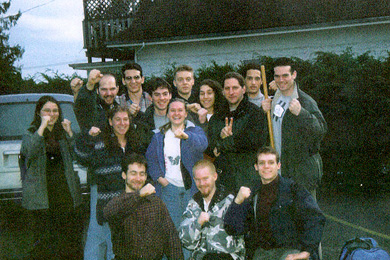 The Evergreen State College Bak Shaolin Eagle Claw Kung Fu Team once again tested their mettle with impressive results, making a superb showing in a local martial arts competition. On Saturday, January 23rd, eleven team members, led by National Team coach Sifu Dana G. Daniels, traveled to Aberdeen, WA to compete in the Sherman Benefit Tourney. While there, the eleven of them took a total of nineteen places. Included in this sweeping victory was a first place in every forms division with an Eagle Claw team competitor.
Sam Haskin, in the black belt division, took 1st in Forms, 3rd in Weapons, and 2nd in Heavy Weight Fighting; Matt Sieradski, also in the black belt division, took 2nd in Forms, 2nd in Weapons, and 2nd in Middle Weight Fighting; Jesse Harter, in the advanced (brown belt) division, took 1st in Forms, 2nd in Weapons, and 3rd in Fighting; Loa Arnoth took 1st in intermediate Forms; Jesse Smith took 1st in beginner women's Fighting; Shasta Smith, in the intermediate division, took 2nd in Fighting; John Eastlake, in the beginner division, took 1st in Forms, as did Isaac Overcast; Abi Hassen took 3rd in beginner Forms; Sean Bliss, in the beginner division, took 2nd in both Heavy Weight Fighting and in Forms; and John Zadrozny, in the beginner division, took 3rd in both Heavy Weight Fighting and in Forms.
The tournament was hosted by Shihan John Kraemer of Morning Star Karate/ Shim Pu Ren and Sifu Mike Skinner Jr. of Aberdeen Kenpo Karate as a benefit for a student and his family whose house burned down recently. The Evergreen Eagle Claw club was the only true Chinese Kung Fu school at the competition. Their opponents consisted of Kenpo, Tae Kwon Do, and Karate stylists. There was, however, one school called "Gun Fu," claiming to be of Chinese origin, but whose members were actually practicing forms of Okinawan Karate. (Gung Fu is a Cantonese pronunciation of Kung Fu, but the author is unsure as to what was intended by the elimination of the second "g" in the borrowing of this term.) Aside from a couple of instances of negative politics on the part of a few judges of one school who were threatened by our presence, the organization and running of the tournament was well done and fair. The excellence of Bak Shaolin Eagle Claw Kung Fu was evident throughout the tournament, as teachers from several other schools expressed appreciation and respect for the skill and martial conduct of many of the team members.
The Sherman Benefit Tourney was a kick-off of the competition season for the Evergreen team, as they prepare for a national kung fu tournament in Dallas, TX in late June, hosted by both Ching Wu and USA WKF. The team plans to participate in a number of other tournaments before June, including the Rose City Nationals in Corvallis, OR in which they plan to repeat their victories of last year. The Dallas tournament will be a National Team event as members of Bak Shaolin Eagle Claw schools from all around the country, including Texas, Chicago, Boston, Madison, Oshkosh, and Puerto Rico, will join together to demonstrate and apply their skill and power. Following Dallas, the National Team will converge during July in Southern Texas for their annual training camp, a rigorous month-long seminar. There team members will receive personal instruction under the tutelage of Grandmaster Fu Leung, the founder and leader of Bak Shaolin Eagle Claw.
The Evergreen Eagle Claw team's victory in this recent tournament is the latest in a string of successful competitions that reflect the excellence and purity of traditional kung fu transmission, received directly from Grandmaster Fu himself, and the expert coaching and instruction of Sifu Daniels. Their success is demonstration of the dedication and focus of their training but is only one portion of the application of real martial arts for which they are capable. Bak Shaolin Eagle Claw is always looking for new students of any level and personal interest in competition is not a requirement for joining the club. Interested parties may contact team manager and instructor Sam Haskin at (360) 357-9137 or obtain more information on the World Wide Web at "http://192.211.16.13/individuals/haskins/".