UW Eagle Claw Kung Fu Club Takes 13 Trophies at Nation's Largest Karate Tournament
INSIDE KUNG FU MAGAZINE COVERAGE MARCH '99 ISSUE, PAGE 124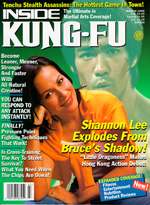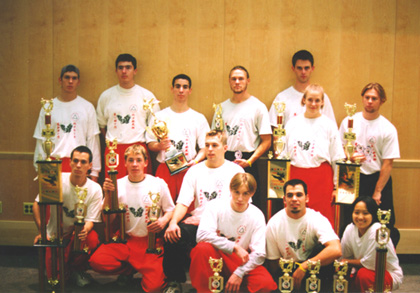 UW-Madison's Eagle Claw Kung Fu tradition continued the weekend of October 10. Thirteen members of the UW Eagle Claw Kung Fu club traveled to Minneapolis to compete in the largest karate tournament in the country. On Saturday over 3,000 martial artists entered the Diamond Nationals Karate Tournament, sponsored by the North American Sport Karate Association (NASKA). UW's Eagle Claw club was the only kung fu team in attendance despite the size of the tournament.
Although many members were competing for the first time, two veteran national team members competed at the black belt level. Noam Reininger, national Eagle Claw team captain and Madison club chairman, and Nate Sonnenberg, Oshkosh club chairman and national team captain, competed in the most advanced fighting and forms divisions. Noam Reininger dominated the Chinese hard style forms, taking gold, while Nate Sonnenberg took silver just a fraction of a point behind. Center Judge Dennis Brown, nationally known kung fu stylist and promoter of the US Capitol Classics in Washington DC, remarked that the forms were "some of the best traditional kung fu I've seen in many years." Reininger had the unusual distinction of competing in the forms grand championship against world-class competition, the likes of John Valera—"Reptile" from television show Mortal Kombat. This extraordinarily high level of competition was only reached by eight individuals.
Sonnenberg and Reininger fought well in light contact sparring, but were penalized for their rough style of fighting which is characteristic of full contact San Shou and semi-contact which are common in Chinese competition.
Sifu Dana G Daniels, coach of the national Eagle Claw team, led the group. He was asked by Dennis Brown, head official for kung fu division, to help judge the wushu soft division. This weekend he introduced several club members to their first competition. Daniels has led first time competitors before, with impressive results. This team's performance was no different.
All the newcomers did very well. The team included in addition to black belts Reininger and Sonnenberg, eight members from UW-Madison and three from UW-Oshkosh. From Oshkosh: Jericho Jansen was a form finalist. Josh Lapointe took third in his weight class in fighting after a disqualification for drawing blood, and fourth in form. Brendon Townsend was a fighting finalist. From Madison's women's team: Akiko Ikeno took first in green belt form and second in green/blue/purple fighting, and Jessi Lange took identical awards in white/yellow/orange. In men's white/yellow/orange belt form: Curtis Jackson-Jacobs took first, John Rydzewski second, and Matt Morin third, sweeping the division. In lightweight fighting, Morin and Jackson-Jacobs tied for third. In light-middleweight fighting Kyle "Trouble" Tromblee took third. Janko Mitric and Rob Foster were finalists in both forms and fighting. In all the team took home 13 trophies.
The tournament was an enormous, yet very well run production. Among many famous martial artists present, several of them TV performers, were Jon Valera, Charlie Lee, John Chung and wushu coach Peter Morales. In such a heavy karate environment the performance was highly unusual for a kung fu team. This was just the beginning of what the team expects to be a highly successful 1998 season. The team would like to thank Grandmaster Fu Leung and Sifu Dana G Daniels. The club also thanks ASM, Jaci Housman of rec sports, and Jerry Mock of Wisconsin Union Central Reservations for their support.