November 6, 1996

Mr. Dave Cater
Editor In Chief
Inside Kung Fu
4201 W. Vanowen Pl.
Burbank CA, 91505

Dear Editor,

The following has been written on behalf of Grandmaster Fu Leung, world wide head of Bak Shaolin Ying Jow Wushu Pai in response to recent statements and articles written by Grandmaster Lily Lau or her students and published in Inside Kung Fu magazine and others. This should serve to clarify any misunderstandings and erroneous statements made with regard to Eagle Claw in general, it's spread in the US and Europe, the current status of Eagle Claw masters and their extended families and specifically to examine the differences as well as similarities between Lili Lau's "Lau Family Eagle Claw Kung Fu" and Master Fu Leung's Bak Shaolin Eagle Claw Kung Fu. This has been written by Sifu Dana G. Daniels, long time student of Fu Leung who also knows Master Lily Lau and has learned directly from her through the auspices and introduction of Master Fu Leung. Sifu Daniels was present at all but one of the following events, meetings and formal occasions and speaks directly for Grandmaster Fu and the World Bak Shaolin Eagle Claw Wu Su Pai.

EAGLE CLAW IN AMERICA
Many things have been said in the last few years regarding Eagle Claw masters, lineages, Grandmasters and the way the style came to be spread in the United States and Europe. Most of the writing has been done by Lily and Gini Lau, the daughters of Lau Fat Mang, or by disciples of Leung Shum in NYC. Generally the articles have given a reasonable overview of the systems history, but unfortunately, much like the Wing Chun system's controversies some years ago, there has been "back stabbing and back biting" even among family members as they attempt to discredit one another or other masters who teach the style.
One such master is Leung Fu, who is the Grandmaster of the Bak Shaolin Eagle Claw system. Originally from Malaysia and also having been a British subject in Hong Kong residence, Master Fu has been teaching for thirty-one years and as early as 1980 was teaching Shaolin Temple arts and Eagle Claw in the United States. Please let it be known that at such time Grandmaster Lily Lau and sister Gini Lau were still in the movie business or other pursuits in Hong Kong, not teaching in the US. By the time they arrived, Master Fu Leung had set up nearly 22 schools in 17 countries including a minimum of six in major metropolitan areas of the USA such as Miami, Springfield MA, Rome NY, Portland OR, Chicago and LA.
Master Fu's lineage and family system was originally based in Malaysia but of Chinese heritage. But, also, please let it be known that he and James Lau Chi Kin, youngest brother of Lily and Gini, are sworn blood brothers of oath, and trained together in Hong Kong for some years. Master Fu is often heard to comment, that something is wrong if the name of James Lau Chi Kin is so often left unmentioned in articles on Eagle Claw or Lau family tradition. Also please be aware of the existence of Francis Lau, who does not make himself known in Kung Fu circles.
Leung Shum should also be mentioned as an elder and one of the first to bring Eagle Claw to the US. As far back as 1981, ourselves and our team of competitors, some of us young instructors under the guidance of Leung Fu were entering competitions along side of Benson Lee, disciple of Leung Shum, in Miami and California. Many of these competitions were held by Manny Rayes Kempo schools and included the Budweiser Karate fighting team. Kempo was predominant at the time. Other than Bak Shaolin Eagle Claw no other Kungfu school was fighting and in Master Fu's words they were "mostly rubbish". It is well known in some competition regions that Bak Shaolin practitioners always fought as well as did forms. This can not be said of most of the other Eagle Claw schools in the US. Chan Poi's students in Florida can attest to the many years of hard competitions beginning in the early 80's, Yao Li being the most notable of them. Many people can remember Sifu Steve Chin of our first Miami School coming to within a tenth of a point of defeating Yao Li in the Grand Championship finals of the 1982 US Open.
Benson Lee once remarked in 1982 that Bak Shaolin Eagle Claw forms had been changed. He said, "They look similar but different". It's true. Master Fu changed them around so as not to be stolen on video in their original form. Some of the forms used in those days were what he and Lau Chi Kin trained on together. It was real Eagle Claw only it looked a little different.
Please also note a major fact of history, in July 1993 Gini Lau held the FIRST WORLD EAGLE CLAW COMPETITION in San Francisco. It was Si Kung Fu's idea to support Gini Lau and try to bring all Eagle Claw teams together. He discussed this with Benson Lee. At the time however, there was some misunderstanding on Gini's part about Leung Fu's Grandmaster title and Lau connection, due to an erroneous editorial statement in an Australian magazine that had been sent to Gini by an unknown student. The matter was left unresolved at the time.
At the tournament Gini's team and Lily's team were quite small. They did some nice, clean, accurate Eagle Claw forms but there were NO FIGHTERS. The Bak Shaolin Eagle Claw team of 93, under direct guidance of Master Fu arrived via Greyhound bus, after 72 hours travel, nine men strong, competed in form and fighting, including Full Contact, and netted 15 medals. Some of the team came from England and Greece. If not for our fighters the Lau family would have "LOST FACE". This is a direct quote spoken by both Francis Lau and Grandmaster Lily Lau. Quite simply, the Kempo and Taiwan style Sanshou fighters would have dominated had not we arrived unannounced. You can check the records, which were not published in any magazine after the event. Sifu Gianni Diangelis fought the #1 rated fighter from the previous years Baltimore Lei Tai Sanshou division. Sifu Dana Daniels fought the #1 rated point fighter in California. Blood was drawn, heads were rocked and Eagle Claw's name was not tarnished at its own competition. You can ask Prof. Joseph Ibuna, Grandmaster of Kajukenbo, who was in our corner during the fighting. His quote was "You guys came to fight". We also had a number of first and second place finishes in Northern forms and Tai Chi.
Another event that must be spoken of is Bak Shaolin Eagle Claw team's attendance in the National level of the 1995 World Wushu Championships in Baltimore. With a team of 17 we took thirty medals, the most, we believe, of any team in the Nationals. Again, this includes Full Contact, Semi Contact and Forms. Please Check the records again, they were not published in any magazine that ran articles on this competition. Dino Bouras 2nd place heavyweight, who took out the #1 rated fighter at the national level, may ring a bell. Tai Yim, Anthony Goh, students of Chan Tai San and some disciples of Leung Shum were witness and can attest to this as well as some well known Sifus of Jow Ga who were in the rings with us as judges of forms and fighting. Again, not many Eagle Claw students of other schools fought.
Prior to this event, in November 94 a delegation of Bak Shaolin Eagle Claw was invited by Lily Lau personally to attend the 30th Death Anniversary banquet in honor of Lau Fat Mang in Hong Kong. Nine of us went from USA, England, and Greece. We demonstrated Eagle Claw for 300-400 people including many brothers and students of Lau Fat Mang and notably in attendance was Leung Ting of Wing Chun fame, who took us to dinner and to his school for a demonstration. Needless to say, we shared a mutual admiration. We also visited the gravesite of Lau Fat Mang, personally escorted by Lily Lau and with our own hands under her direction, cleaned the tombstone, which had been left unattended for some time. This was in a Christian cemetery on Kowloon side, Hong Kong.
Another very important fact, currently being written about with some errors or omissions, concerns Grandmaster Lily's introduction to the countries of Greece, England and Puerto Rico. With regard to her doing seminars in those countries, this was accomplished with the help and auspices of Grandmaster Fu Leung. Lily Lau does not really have schools in those countries. They are originated and trained by Master Fu. There are a few young men, namely Alvin Cardona of Tampa and Julian Dale of England who "jumped camp", disgruntled, and claim to be students or disciples of Lily or Gini Lau. This is not really the case, but if so accepted, it means that age old traditions of respect within Chinese Martial culture are being broken by the family themselves. Traditionally, students like these could not be trusted by any future teacher, nor could the student be certain of ever receiving the true, protected family knowledge.
Another such teacher, Sifu Panayotis Apotsos of Athens Greece, who is now claiming to be a disciple of Lily Lau, was trained like a son, from age seventeen, beginning more than twenty years ago until recently by Master Fu Leung. He has recently made an apparent change of alliance for business reasons. He was not trained by Lily Lau until very recently, and his introduction to her was directly through Master Fu in an effort to help Lily Lau as well as introducing his own students to other elder members of the World Eagle Claw family. Sifu Apotsos's power and skill are a direct representation of Master Fu's Kungfu. He is still considered to be a student of Master Fu and our brother.
Let it also be known that in a meeting during the '95 World Wushu championships that Master Fu was directly challenged verbally by Billy Wong, who is Lily's student, and also by Lily's boyfriend, in a blatant effort to discredit Master Fu's authority and rank. In attendance were notable older masters and officials of the event, Chan Tai San and Tai Yim among them. It was a closed-door meeting ostensibly to discuss problems within the Chinese community. We attended by personal invitation of Billy Wong. As it turned out, the truth of Grandmaster Fu's existence and lineage could not be diminished or discredited. A direct quote from Tai Yim was "We know your work, your students are very good, we know you have been teaching for thirty years, we only want to clear this issue of titles."
One week later the entire Lau family, with Lily Lau the only one not in attendance, called to invite Master Fu and disciples to a meeting in San Francisco to apologize for the error and behavior of a young student acting without authority or true knowledge. A promise was made to include Leung Fu and students into the family tree. This can be verified through Ruth, Francis, Gini, or especially James Lau Chi Kin, resident of Taiwan. In essence, the Lau family recognized one of their own.
As always Grandmaster Fu continues to work tirelessly to promote true Shaolin, true Eagle Claw, and true martial arts Brotherhood of both the very old and very new schools of thought, and hopefully to bring people together, all Eagle Claw families and practitioners included, and for the record, "All true Martial Artists, Warriors, Tae Kwon Do men, Karate men and all others" to work together, not to argue or badmouth, but to become a positive force in an increasingly troubled world, to find what works, "in reality", and to promote health, strength, spirit and the Way.
Note : We have photographs to document all of the above said events.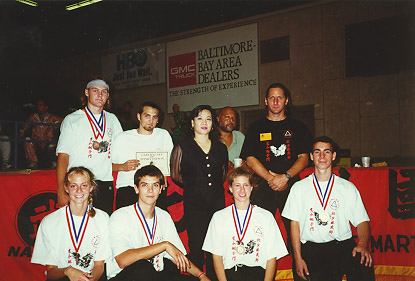 Grandmaster Leung Fu's Bak Shaolin Eagle Claw UW Madison National Team at the World Wushu Championships 95 in Baltimore, being congratulated by Grandmaster Lili Lau. To Lili Lau's right are Grandmaster Fu Leung, founder of Bak Shaolin Eagle Claw Institute and Organization Worldwide, and national coach Sifu Dana G. Daniels. Our combined team from UW-Madison and Chicago of 18 members took 31 medals in forms and fighting.
------------------------------------------------------------------------
Addendum : Further direct statements from Master Fu after hearing this article spoken to him.
Statement : Grandmaster Fu Leung and his Family recognize Lily Lau as Grandmaster of the Lau Family. We call her "Si Bok Kung", which roughly translated means Aunt Grandmaster. Master Fu is the Grandmaster of his own family system, out of Malaysia and has grandstudents around the world.
Bak Sil Lum Eagle Claw is a "different clan, but still connected to the Lau lineage. No teacher holds all the knowledge. All families should teach each other, not steal each others students."
Statement : "If anyone was to take over one of my schools, besides my immediate students and family it would be James Lau Chi Kin. It to him I owe allegiance and not to the sisters"
"Everyone should work together for the mutual understanding of Eagle Claw, regardless of titles, associations or group names."
Statement : "The name Bak Shaolin is a mixture of Cantonese and Northern dialect. This name differentiates us from the other Eagle Claw schools. Most people in America don't understand what Northern Shaolin really is." It should also be noted that Master Fu studied Hung Gar under Chan Hung Chung at the same time he was working with Lau Chi Kin in Lau Fat Mang's original Tung Choi Kai St. gym in Mongkok, Kowloon. He was a member of the last group of British instructors who trained there before it's closing. One of Master Fu's students, Sifu Simon Wray, twenty three years a student, also studied with Lao Chi Kin in the same gym. Simon Wray is now a Wildlife Biologist for the Oregon Department of Fish and Wildlife (1).
Statement: "Some people, including another prominent Eagle Claw master, I am told, have made unfounded statements that I learned my Eagle Claw from videos. In fact, why are people learning from videos anyway when you can not possibly learn the essence of Eagle Claw this way. Most, if not all of these videos, appeared on the scene well after people like Leung Shum and myself began teaching Eagle Claw in America. How can you have produced quick, powerful, efficient, aggressive, and victorious Eagle Claw students with verifiable records if you had learned from videos. The record of Bak Shaolin Eagle Claw schools world wide in the production of qualified Sifus, students and national and internationally competitive fighters in all arenas speaks for itself. Full stop."
Thank You,
Grandmaster Fu Leung
And the Worldwide Community of
Bak Shaolin Eagle Claw students.
(1) Sifu Simon Wray, who has been training in Bak Shaolin Eagle Claw for more that 23 years is one of Grand Master Fu's "eldest" students and instructors. Sifu Wray was one of the hundreds of students that Grand Master Fu taught in England and through Master Fu's help, relocated to the United States and is now a Wildlife Biologist for the Oregon Department of Fish and Wildlife. As stated previously, he also studied for a short while with Lau Chi Kin in Hong Kong through the auspices of Fu Leung. He fought in the famous 1977 Karate Budokan International Tournament in Kuala Lumpur, Malaysia. Mr. Wray is a "purist" and practices for the "love of the arts". As such he prefers to remain far away from the politics of Chinese Kung Fu.