Team Evergreen Kung Fu steals the show in Spanaway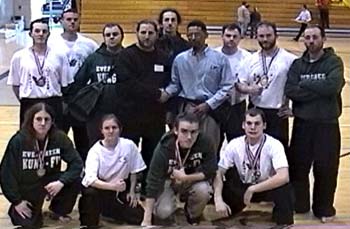 On Saturday April 27th Team Evergreen Bak Shaolin Eagle Claw Kung Fu continued its winning tradition traveling to Spanaway, Washington to compete in the PacWest Tae Kwon Do Association Martial Arts Championships. The twelve Eagle Claw representatives won 22 medals in the tournament directed by well-known and well-respected promoter, teacher, and fighter Master Ric Gordon and sponsored by the Northwest Tae Kwon Do Association, the International Martial Arts Council (IMAC), and the Amateur Athletic Union (AAU). The tournament was a national qualifying event for the AAU, which can lead to American national team tryouts and eventually the Olympics. This brought a variety of participants and added a high level of competition to the event.
Team captain Owen O'Keefe started the day by breaking yet another staff taking second in the black belt weapons forms division with his powerful form, Shaolin Quan. In the black belt point sparring division O'Keefe again took second after fighting through a stacked division. He finished the day by taking first place in the highly-charged continuous sparring division.
Sam Haskin, an Evergreen alum, took second in the black belt empty hand forms division with his precise execution of Eagle Claw Lo Han. Haskin, a national Bak Shaolin Eagle Claw team member from Seattle and founding captain of TESC Kung Fu team, took 3rd in the black belt point sparring division finishing behind O'Keefe.
Jesse Harter, last year's Team Evergreen captain, made a surprise visit from Colorado to compete with his teammates in Spanaway. Harter showed why he still holds a 3rd place Northwest regional ranking in the 2001 IMAC traditional black belt forms after only six months of competition by taking first place in the black belt empty hand forms division. Harter, with his well-known, hard-hitting reputation in the Northwest, made a strong showing in the sparring rings as well.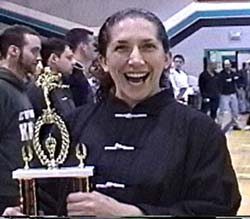 Jessie Smith, the Northwest's #1 rated female point fighter, continued her string of success finishing first in all of her divisions yet again. Smith, an Evergreen alum that now teaches aerobics and women's self-defense in the Olympia area, took first in women's black belt empty hand forms, point sparring, and continuous sparring with teammate Loa Arnoth close behind in all three divisions. Arnoth, another Evergreen alum now based in Seattle, finished second in women's empty hand forms, point sparring, and continuous sparring.
In the under belt divisions Team Evergreen carried on the trend set by the veterans. In intermediate forms Bak Shaolin Eagle Claw swept the division with Mark Germano, Ben Green, and Mark Jaffe taking first, second and third, respectively.
In intermediate point sparring Kevin Barrett fought his way to second place. In the beginner point sparring division Team Evergreen again swept the competition with Mark Germano, Andrew Bresnik, and Mark Jaffe taking first through third, respectively. Bresnik also took second in continuous sparring, being bested by O'Keefe after two earlier hard fought wins.
Once again the Team Evergreen veterans and alumni as well as the junior team made a dominant showing in their divisions. This win shows that the Bak Shaolin Eagle Claw reputation forged by Haskin, Harter, Smith, and Arnoth is obviously being carried on by O'Keefe and passed on to the 'new crop' at Evergreen.
The Evergreen Kung Fu team would like to thank Grandmaster Fu Leung and Sifu Dana G. Daniels for their countless hours of instruction and dedication. For more information about the Team Evergreen Bak Shaolin Eagle Claw Kung Fu Club and Competition team visit www.bakshaolineagleclaw.com or contact Owen O'Keefe at 357-9137.