Western Canadian Martial Arts Challenge 2005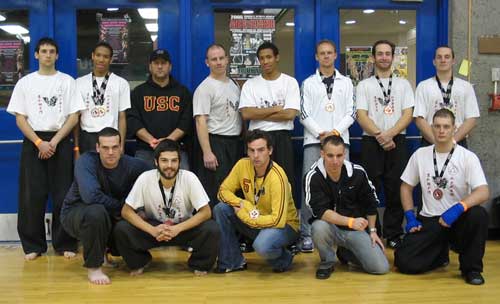 October 22, Burnaby, British Columbia – Continuing on their streak of open-circuit wins, the Bak Shaolin Eagle Claw National Team was joined by the up and coming crew of contenders from Team Evergreen for the trek across the border to compete at Bill Hunter's Western Canadian Martial Arts Challenge (WCMAC). The day was filled with stiff competition in the forms and fighting rings, but both Bak Shaolin Eagle Claw teams stepped up and showed why they are considered so formidable in the national tournament circuits.
The National Team consisting of Nate Sonnenberg, Noam Reininger, Sam Haskin, Jesse Harter, Owen O'Keefe, and Andrew Bresnik, finished the tournament with eight medals from the black-belt forms and fighting divisions, while Team Evergreen left their mark on the underbelt divisions with five medals for the day.
The event started with Evergreen team captain, Devon "Dakota" Waldron, leading his crew of Dan "Doj" Edleson-Stein, Aubrey Harding, Darius Harding, and Cary Kibby-Deck into their first competition of the year.
Originally slated to compete in the novice forms division, Edleson-Stein, Kibby-Deck, and the two Harding brothers were moved up at the last minute to the intermediate division. All four did very well, with Aubry Harding taking second place and Edleson-Stein narrowly edging out Kibby-Deck for third. In advanced Brown Belt forms, Waldron took second place, after a close run off decision for first.
In novice point fighting, Team Evergreen quickly cleared away the competition. "Doj" Edleson-Stein and Aubrey Harding handily defeated their first and second round opponents eventually lining up against each other in championship match. After a great fight that went into overtime, Aubry came out on top, winning first place with Doj taking second.
Following Team Evergreen's strong debut for the year, it was the National Team's time to descend on the black belt divisions. Andrew Bresink, newest team member and recent Evergreen team captain and graduate, started the black belt competition off by winning first place in the soft forms division with an energetic performance of Moi Fa.
The black belt continuous and point fighting rings saw the National Team including Devon Waldron compete in their usual tough and aggressive style. The team swept the continuous middleweight and heavyweight divisions with Sonnenberg, Smith, and Reininger taking first, second, and third place in middleweight, and Bresnik, O'Keefe, and Harter winning the top three spots in heavyweight.
The National Team then brought their force into the point fighting ring. In the middleweight division, Sonnenberg took third after a heated match with a top Canadian fighter. In the heavyweight division, Evergreen's Waldron fought through several contenders, narrowly being edged out in a close match for third.
As Team Evergreen looks forward to another strong and successful year, the national team is looking forward to continuing their medal winning streak through the national open and Chinese martial arts circuits. 2006 promises a long succession of tournaments for both teams, so be sure to check them out!