Evergreen Kung Fu Arises Victorious At the 12th Western US Nationals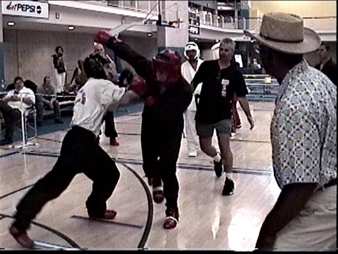 Over the weekend of July 28-29, Team Evergreen competed at the 12th Western US Nationals hosted by Sifu Al Dacascos', the father of the famous actor Mark Dacascos who plays The Crow. Among other guest appearances were Eric Lee, a famous martial arts movie actor who is a friend of our Grandmaster, Leung Fu. Other good friends, NBL promoter Jim Butler and NBL national arbitrator, Rick Johnson were also on hand to help run the tournament.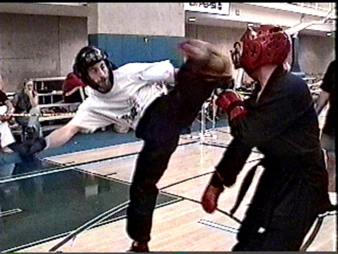 The Evergreen Kung Fu Team returned victorious from the AAA rated NBL (National Black Belt League) tournament, which was a top qualifier for the NBL World Championship Super Grands in December. The weekend saw a more complete recognition of the Team's skill in both forms and fighting rings as the Team's rigorous competition training has grown over the past year. So much that nationally ranked fighters Tim Gustavson and Bill Hunter commented on their incredible learning curve, which has accelerated them to top competitors in the NBL.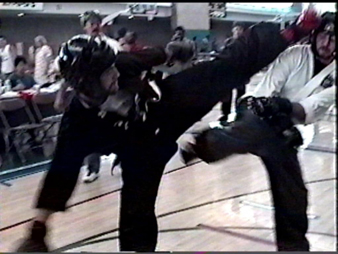 The tournament kicked off Friday night with the Continuous Fighting and Team Fighting Divisions. Shasta took Bronze in the middleweight ring where he fought a heated rematch with a fighter he had competed against just a month before in Vancouver, B.C.. Shasta evened the odds with his competitor by fighting aggressively and scoring nearly equal in points (22-26).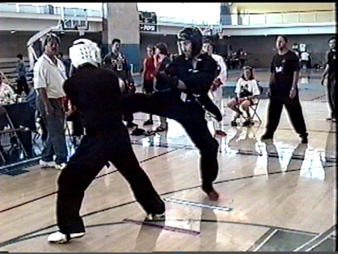 The Women's fighting team also scored highly, Loa Arnoth took Bronze in the lightweight continuous ring by repeatedly landing piston like kicks. In the three person Team Fighting, the Evergreen Women took Silver after a rough and tumble division. Jessie Smith attacked with a quick swinging hook that drew blood and knocked her opponent to the ground that gave her a disqualification. On Saturday Loa again demonstrated her relentless kicking style, taking Silver in the Black Belt Point Fighting ring. Jessie Smith also aggressed in the division taking Bronze after a fierce fight against a nationally ranked team MAAD competitor.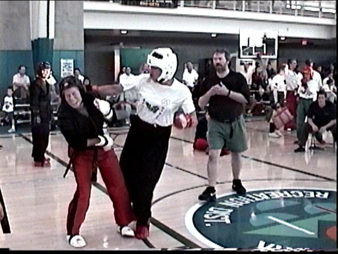 Team Captain and leading Black Belt Jesse Harter rose to the occasion Saturday displaying his skill and power by taking a Silver medal in the Black Belt point-fighting ring. After taking apart his first two opponents with devastating kicks and lightning fast punches, Jesse fought Bill Hunter who is ranked 1st in the region and 6th in the world. The fight was intensely contested with Jesse holding back his power to avoid disqualification and scoring two rapid points before falling to the finesse of the veteran point fighter. Other nationally ranked fighters watching commented that Jesse's fighting style has improved exponentially over the past couple months. Bill Hunter remarked, "He [Jesse] really hits hard and all I could do was duck and run to get outa there."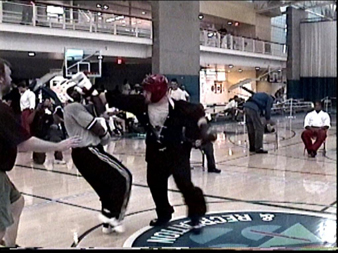 On Saturday Team Evergreen excelled in forms divisions as well where Team captain Jesse Harter demonstrated his Shaolin power taking Silver in both Black Belt weapons and open hand forms divisions. Loa Arnoth also competing in Black Belt forms received Bronze after a three-way runoff in the soft traditional forms division. In the advanced rings Shasta, John, and Owen placed 2nd, 4th, and 5th respectively in a large field of nineteen competitors.
The Team would like to thank Grandmaster Leung Fu and Sifu Dana G. Daniels for their dedication to teaching and coaching. We would also like to thank Evergreen REC Sports and the S&A Board for their continued support of the Team to reach the NBL World Championship Supergrands.
Trophy List
Black Belt Divisions
Jesse Harter
Silver, Point Fighting
Silver, Weapons Forms
Silver, Soft Forms
5th, Continuous Fighting
Jessie Smith
Silver, Women's Team Fighting
Bronze, Point Fighting
5th, Women's Continuous Fighting
Loa Arnoth
Silver, Women's Point Fighting
Silver, Women's Team Fighting
Bronze, Women's Continuous Fighting
Bronze, Soft Traditional Forms
4th, Soft Forms
Advanced Divisions
Shasta Smith
Silver, Advanced Traditional Forms
Bronze, Advanced Contemporary Forms
Bronze, All Belt Continuous Fighting
4th, All Belt Arnis Stick Fighting
6th, Advanced Point Fighting
John Eastlake
4th, Advanced Traditional Forms
6th Advanced Contemporary Forms
6th, All Belt Continuous Fighting
Owen O'Keefe
4th, All Belt Continuous Point Fighting
5th, Advanced Point Fighting
5th, Advanced Traditional Forms
Beginner
Ryan Kunimura
5th, Beginner Traditional Forms