2005 Palm Springs International World Karate Championships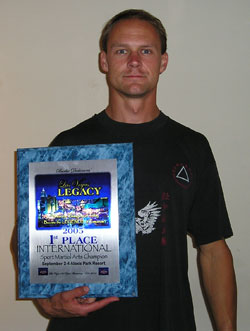 Sept 17, 2005, Palm Spring, CA – The Bak Shaolin Eagle Claw National Team continued its attack on the open martial arts competition circuit, this time at the 15th Palm Springs International World Karate Championships hosted by Master Julio Arana. The team, consisting of four senior team members, took home four medals in the fighting divisions—one for each competitor in their respective weight class.
Team Captain Noam Reininger, from Austin, Texas, started the day off by fighting hard and fast to win third place in the lightweight fighting division. Shasta Smith, instructor at the Manhattan Beach Kung Fu Club, also took home a bronze in the middleweight division after demonstrating his monkey influenced fighting style against his opponents. Sam Haskin, instructor at the Seattle branch of Bak Shaolin Eagle Claw, won second place in the heavyweight division.
But once again, the big story of the day was Nate Sonnenberg. Nate, a Wisconsin native now living in Manhattan Beach, California, took Gold in the light-heavyweight fighting division by delivering a series of lightning fast head kicks to his challengers. This win continues a chain of victories for Sonnenberg, who won first place in Traditional Chinese Forms a few weeks prior at Barbie Dickenson's Las Vegas Legacy.
Also present at the event was a film crew from the soon to debut television program Martial Arts TV. The crew, filming their pilot episode, interviewed Bak Shaolin Eagle Claw's National Coach Dana G. Daniels as well as Nate Sonnenberg and Shasta Smith. The interviews covered Coach Daniels' training philosophy as well as Nate's win in Las Vegas and Shasta's recent role in a Joey Travolta film.
This tournament represents the second stop on a year-long nation-wide drive by the Bak Shaolin Eagle Claw National Team to fight the top open martial arts competitors in the country. Look for plenty more action from the team as they tear up the circuit!